Tenting
The campground has a full set of amenities available for the tenting enthusiasts. We have refreshingly clean washrooms, a fully equipped laundromat with iron/board, camping shelters and a kitchenette available for those rainy days
Camping Cabins
We have taken the "Rustic Camping Cabin" to the next level. Our fully insulated camping cabins feature a double bed fully linened, towels, satellite TV. These cozy units are located adjacent to our modern washroom facility and they are easily accessible for those late night ferry arrivals or those early morning departures.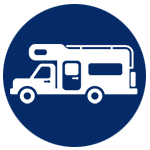 RV / Vehicle Storage
If you wish to store your RV or vehicle while you go to Newfoundland we provide this service to our customers. The fee for dry storage is 10.00 per day but if you stay with us just one night there is a 50% discount on storage fees.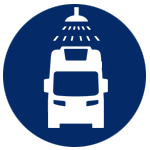 RV / Car Wash
The park has a 50 foot concrete wash pad featuring a coin operated wash/wax system for those who are particular about their RV's
Winnie's Wagon
Famous for its luscious burgers, homemade Crinkle Fries and fabulous fish and chips…its worth the wait.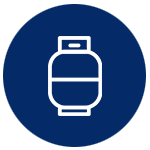 Propane Fill up
Easy pull through propane station, capable of filling RV's, trailers and barbeque tanks.