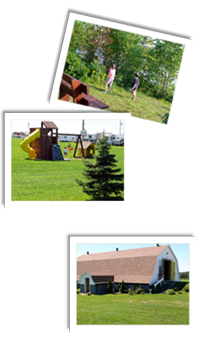 The park boasts a beautiful 1.2 km walking trail that gives a panoramic view of the Bras d'or lake. The trail has several rest areas where one can enjoy the tranquility of the abundant scenery or watch the eagles fishing.
We have a playground for the kids, horseshoes, shuffleboard, firepits, ice, full laundromat and a unique activity center housed in the Big Barn. The center has a large rec hall suitable for groups and caravans, a games room, private whirlpools, kitchenette and an exercise room.
The park has a 50 foot concrete wash pad featuring a coin operated wash and wax system for those who are particular about their RV's. An information center housing maps, brochures, listings of local events, festivals, concerts, church schedules, pay phones and a book exchange all under one roof for your convenience.
Day Trip Idea:
Leave the park after breakfast and head west over Kelly's Mountain making St. Ann's Gaelic College your first stop of the day. Visit the Great Hall of Clans and discover the Celtic roots of our island culture. After an enlightening couple of hours at the college you can head west again to the village of Baddeck where you can visit Alexander Graham Bell's Museum, one of the finest in the country.
After divulging yourself to Bell's accomplishments you can leave the museum and tour the resort village of Baddeck taking in the sites and amenities this quaint little village has to offer. To round off a perfect day, before heading back you must take in the Ceilidh at St Micheal's Parish Hall on Chebucto Street in Baddeck.